Roundtable on procurement and development at the European Bank for Reconstruction and Development (EBRD), 17 marca Londyn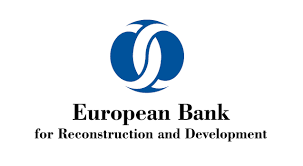 17 marca, 2020
Europejski Bank Odbudowy i Rozwoju
Londyn, UK
W dniu 17 marca od godziny 9.00 do 11.00 w siedzibie Europejskiego Banku Odbudowy i Rozwoju w Londynie odbędzie się seminarium poświęcone kwestiom zamówień publicznych i rozwojowi gospodarczemu. Główne referaty przedstawią: Paulo Magina (OECD): The new MAPS framework oraz Christopher Yukins (GWU Law School): U.S. developments - electronic marketplaces and trade.
Wśród panelistów znajdą się natomiast:
Marta Andhov (U. Copenhagen)

Benedetta Audia (UNOPS)

Michal Kania (U. Silesia)

Caroline Nicholas (UNCITRAL)

Gabriella Racca (University of Turin)

Jeri Somers (Chief Judge, U.S. Civilian Board of Contract Appeals)

Andrea Sundstrand (Stockholm University)
World Bank's Fifth International Debarment Colloquium, 23 kwietnia 2020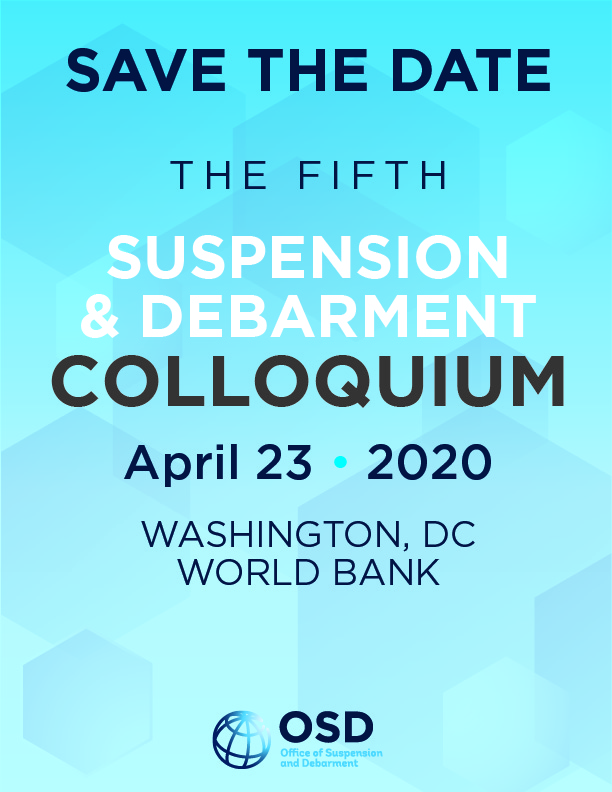 23 kwietnia, 2020
Bank Światowy
Waszyngton, DC
23 kwietnia b.r. w siedzibie Banku Światowego w Waszyngtonie odbędzie się V międzynarodowe seminarium na temat wykluczenia z procedury zamówień publicznych. (World Bank's Fifth International Debarment Colloquium). W ramach spotkania będę miał przyjemność uczestniczyć w panelu na temat: The "Other" Grounds: A Look at Performance- and Capacity-Based Debarments''. Konferencja organizowana jest przez World Bank's Office of Suspension and Debarment.
Konferencja organizowana przez King's College w Londynie oraz Uniwersytet Jerzego Waszyngtona w Waszyngtonie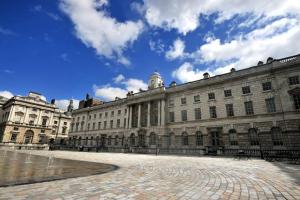 16 marca, 2020
King's College
Londyn, UK
Zachęcam do udziału w konferencji organizowanej przez College Królewski w Londynie wraz z Uniwersytetem Georga Waszyngtona w Waszyngtonie. Tematem konferencji będzie problematyka rozwiązywania sporów powstających na tle umów w sprawach zamówień publicznych.
PROGRAM
Wprowadzenie (10.00-10:15)
Michael Bowsher QC, King's College, London & Monckton Chambers
Panel I (10:15-11:30) How Poor Procurement Affects Failed Contract Performance
Professor Christopher Yukins, George Washington University (moderator)
Paul Lalonde, Dentons, Toronto

Jane Jenkins, Freshfields Bruckhaus Deringer, London

Francois Lichere, Université

Jean Moulin Lyon 3 Benedetta Audia, UNOPS
Panel II (11:30-12:30) The Limited Impact of EU Public Procurement Law on Contract Administration
Michael Bowsher, King's College, London & Monckton Chambers (moderator)
Roland Stein, BLOMSTEIN, Berlin Professor

Gabriella Racca, University of Turin

Irena Georgieva, PPG Lawyers, Sofia

Caroline Nicholas, UNCITRAL (invited)
Lunch (12:30-13:30)
Panel III (13:30-14:30) U.S. Experience: Linking Contract Award to Performance Through Standardized Clauses and Dispute Resolution — and Fraud
Steven Schooner, George Washington University Law School (moderator)
Hon. Jeri Kaylene Somers, Chair, U.S. Civilian Board of Contract Appeals, Washington DC

John Pachter, Smith Pachter, McLean VA

Craig Holman, Arnold & Porter, Washington DC

Marcia Madsen, Mayer Brown, Washington DC
Panel IV (14:30-15:30) Improving Contract Performance Through Better Procurement: Diverse National Experiences
Professor David Mosey, Center for Construction Law & Management, King's College, London

Vera Eiró, Linklaters, Lisbon

Paul Khoury, Wiley Rein, Washington D.C.

Kate Gough, Freshfields Bruckhaus Deringer, London

Marta Andhov, Assistant Professor, University of Copenhagen
Tea (15:30-16:00)
Panel V (16:00-17:00) Judges & Arbitrators Panel: European Approach to Resolution of Disputes in Public Contracts
Helena Rosén Andersson, Supreme Administrative Court, Sweden

Sir Vivian Ramsey, Judge, Singapore International Commercial Court

Judge Katja Hoegh, Chair, Østre Landsret (High Court of Eastern Denmark), Copenhagen

Mrs. Justice O'Farrell DBE, Technology & Construction Court, London (invited)
Drinks (17:00-18:00)
Book talk: procurement across borders (18:00-20:00) For those able to stay on, co-editors Gabriella Racca and Christopher Yukins and several of their co-authors will host an evening of light refreshments and discussion of their recently published book, Joint Public Procurement and Innovation: Lessons Across Borders. The book, with leading authors from both sides of the Atlantic, addresses a range of cutting-edge issues in public procurement, including: Joint purchasing across borders — US and EU models Innovative procurement techniques emerging in Europe and internationally Special challenges in procuring for "smart cities" OECD's role in the revised "MAPS" standards for assessing public procurement systems Electronic marketplaces for public procurement. Professor Chris Jansen (VU Amsterdam) and co-author Professor Patricia Valcárcel Fernández (University of Vigo) (invited) will discuss their ongoing study of contract administration law — another important project assessing procurement law across borders.
With generous support from: Freshfields Bruckhaus Deringer, Arnold&Porter and University of Turin
Zamówienia Publiczne i Partnerstwo Publiczno-Prywatne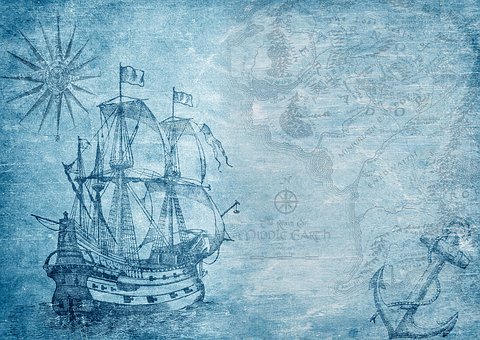 Zamówienia publiczne i Partnerstwo Publiczno-Prywatne (PPP) stanowią metody realizacji zadań publicznych, które umożliwiać mają sprostanie wyzwaniom współczesności. Wyzwania te związane są aktualnie z implementacją wyników IV Rewolucji Przemysłowej, przeciwdziałaniem efektom zmian klimatycznych, wspieraniem rozwiązań proinnowacyjnych, uwzględnieniem dynamicznych zmian geostrategicznych. Szczególne znaczenie zamówień publicznych i PPP widoczne jest w działaniach na poziomie miast aspirujących do budowy tzw. ,,Smart Cities - Inteligentnych Miast''. PPP służyć może również jako efektywna metoda wsparcia infrastruktury i usług medycznych w obliczu dzisiejszej pandemii spowodowanej wirusem COVID-19. Rolą naukowców, sektora publicznego oraz prywatnego jest jak najlepsze wykorzystywanie zamówień publicznych oraz PPP w służbie publicznej.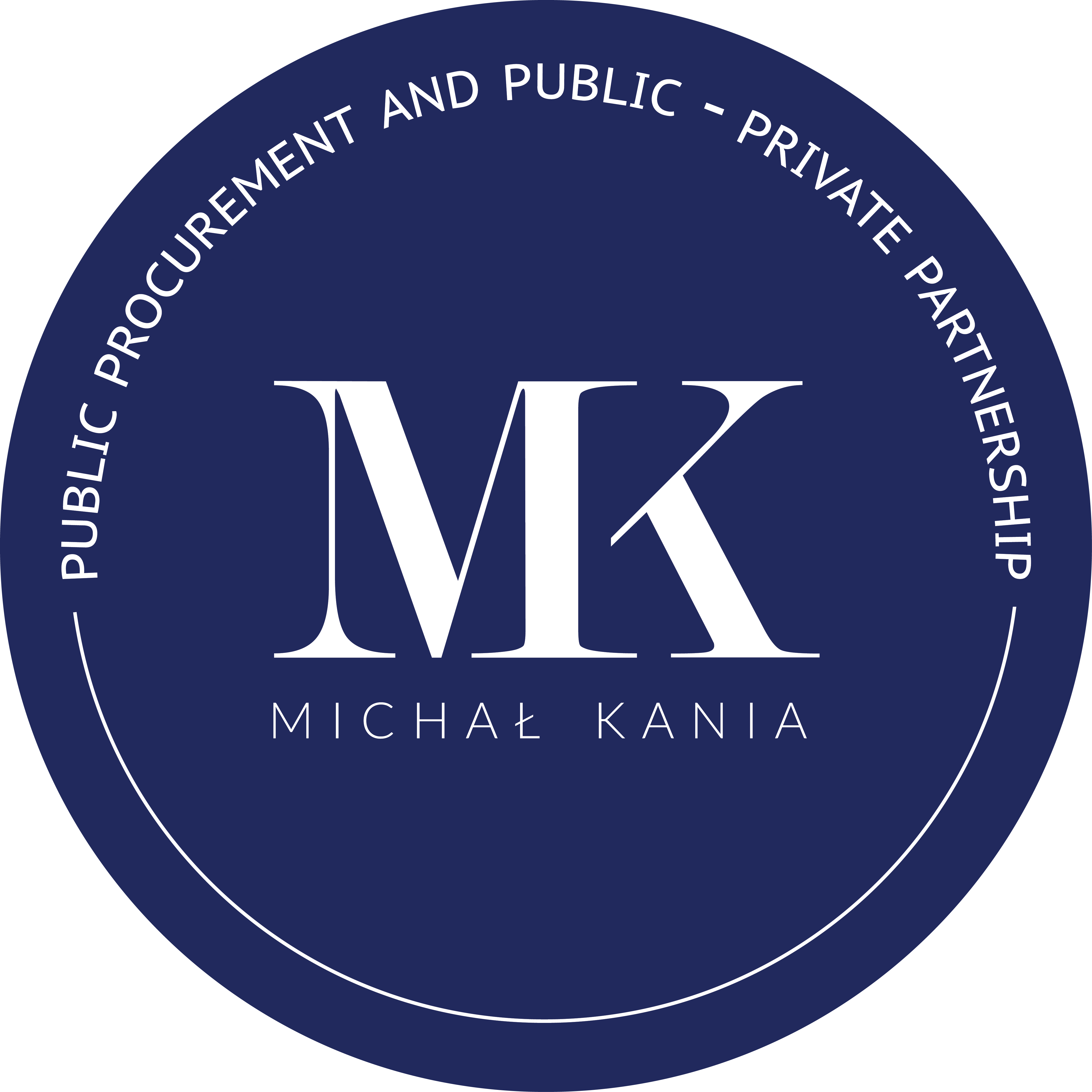 Michał Kania - profesor nadzwyczajny na Wydziale Prawa i Administracji Uniwersytetu Śląskiego w Katowicach, stypendysta Fundacji Fulbrighta na Uniwersytecie Georga Waszyngtona w Waszyngtonie, stypendysta DAAD (Deutscher Akademischer Austauschdienst) na Uniwersytecie Ludwiga Maximiliana w Monachium, radca prawny, pełnomocnik Rektora Uniwersytetu Śląskiego ds. partnerstwa publiczno-prywatnego, kierownik Studiów Podyplomowych Administracja i Zarządzanie, pomysłodawca i wykładowca na Studiach Podyplomowych: Zamówienia Publiczne i PPP, pomysłodawca i pierwszy prezes zarządu Fundacji Wsparcie Naukowe PPP, członek Stowarzyszenia Prawa Zamówień Publicznych, wiceprezes Śląskiego Sądu Arbitrażowego. W latach 2017-2018 pełnił funkcję niezależnego eksperta Ministerstwa Technologii i Przedsiębiorczości przy opracowaniu koncepcji reformy Prawa zamówień publicznych. Michał Kania jest autorem ponad 100 publikacji z zakresu zamówień publicznych, partnerstwa publiczno-prywatnego oraz umów koncesji na roboty budowlane lub usługi publikacje prelegentem na krajowych i międzynarodowych konferencjach poświęconych problematyce zamówień publicznych oraz partnerstwa publiczno-prywatnego. Od 2005 roku współpracuje z katowickimi i warszawskimi kancelariami prawnymi. W swojej działalności naukowej i praktyce zajmuje się głównie problematyką realizacji inwestycji publicznych.